Introduction and a Brief History
At Highwire Improv, we're always looking for new and interesting ways to live out our motto of Community First. One challenge we've observed over the past few years is the gap between getting interested in improv (though a workshop or an intro class) and figuring out all of the steps to getting regular stage time.
While theater-constructed 'house' teams can provide clarity to that path, they are often a large leap in experience (both in improv skills and general performance logistics skills) that can be difficult to make for newer improvisers. There are comparatively fewer options to get stage reps for those people who haven't made it through such an audition/selection process.
As one experiment, one action to try to fill that gap, we are formalizing the Highwire Hive as a community mashup team program. The Hive was originally devised as a large-scale mashup by Geoff Taylor, one of Highwire's co-founders, as part of The Little Bit Show (this bit was not little) created by Kristen McKenzie, another of Highwire co-founders!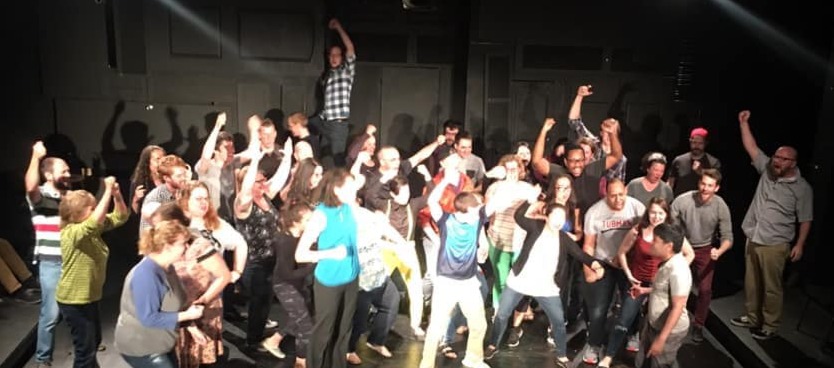 The Hive has continued on throughout the formation and growth of Highwire as a mashup group that fills open in-person show blocks and gets new groups of improvisers performing together. But until now, that process was a bit haphazard and opaque, and so we're bringing some consistency and transparency to it!
How to Become a Part of the Highwire Hive
Joining the Highwire Hive is really easy, and it really is for everyone, regardless of level of experience, availability, or commitment. All you have to do is fill out this simple Google Form.
What do we ask of you?
Your name
Your pronouns, if you'd like to share them
Your email (all communications for the Hive will be via email, since not everyone has every social media platform)
Whether you're interested in online, in-person, or both.
That you read and agree to the Highwire Improv Code of Conduct.
That's it! No application process, no required number of classes, no fees!
What Will the Highwire Hive Do?
Take over the world through the power of improv? Maybe! First, we're going to have regular in-person and online performances as part of Highwire Improv. We'd love to see this evolve into a broader community development and engagement part of Highwire, catered to the needs and growth of individual improvisers, but we're starting with something we know people want – stage time with a supportive and nurturing growth environment.
To that end, we'll begin scheduling a Highwire Hive show roughly once per month in-person and online. Each Highwire Hive show will have an experience improviser leading the group in introductions, warm-ups, a boundary check-in, and a post show chat/celebration. This will ensure each randomly mixed group of performers is in good hands and folks don't have to worry about who's going to take charge on the day of the show!
We'll select performers for each show in a simple, transparent way:
About two weeks before each Hive show, we'll send an email out to everyone who has signed up to be part of the Hive, but didn't participate in the most recent Hive show (or the last two or three Hive shows, depending on how big the group is getting – we'll adjust this as we go).
Everyone will have 48 hours to indicate that they are interested and available for the show. No rush – no 'whoever responds first' process.
Of all of the 'yes' responses, we'll randomly select performers to join us – emphasizing a fair process without pressuring people to ravenously check their emails.
If we don't have enough performers, we may reach out to recent Hive performers for a second call for interest.
Thanks and Feedback Welcome!
As always, this is just our next step in an ongoing process to build community improv spaces – we welcome your feedback and ideas on iterating this process. In particular, we're interested in what works well for solo improvisers! Email us at [email protected] with any thoughts! Sign up for the Highwire Hive!