Over the past several weeks, the Highwire Improv team has been working on our 2023 budget and strategy, and after reviewing it during our all-community meeting last night, we're excited to share it publicly today!
This post includes summary details from the more detailed Strategy and Budget documents – if you want to do the deep dive, the links are right below:
Highlights from 2022
Thanks to an amazing community of performers and volunteers, we achieved an incredible amount last year! Some of the highlights included:
We Remained a Leader in Online Improv
Highwire Improv formed during the pandemic, and as such online improv has been baked into our DNA.
We've continued to hold a prolific performance space in 2022:
We produced over 200 nights (and some days) of online shows.
We've had 210 unique shows/teams perform with us.
We continued Black Joy Fridays: monthly shows dedicated entirely for Black improvisers.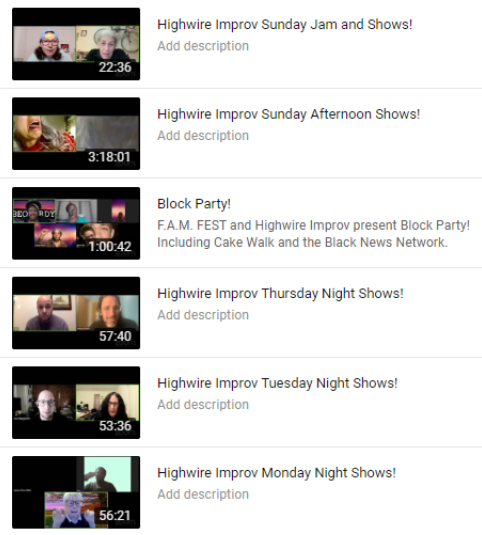 …and Took Improv All Over Baltimore!
We greatly expanded our in-person activities in 2022:
28 free jams at the Roland Park Community Center
21 in-person shows
12 unique venues all over Baltimore (and Pennsylvania)
Guest performers from DC, New York, and Chicago
663 audience members (an average of 31.6 per show)!
Money Well Spent – To Artists
Highwire Improv continued to create opportunities for artist to make money doing improv:
$7,400 to instructors of applied improv workshops
$400 to instructors of comedy improv workshops
$2,750 to performers
Over $10,000 into improvisers hands in 2022!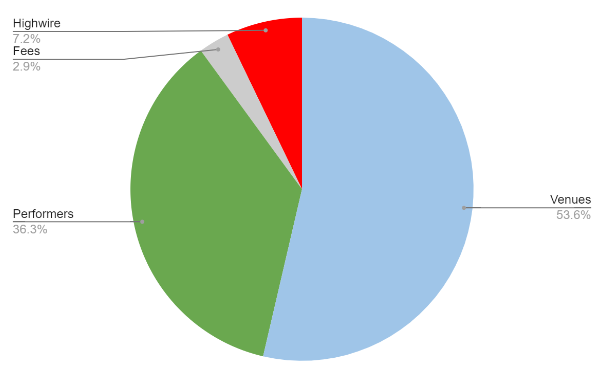 We Launched and Grew Programs
We developed our applied improv program significantly further, thanks to the leadership of Darin Harm. We were able to deliver training programs to five organizations, began creating evergreen marketing materials, and grow our facilitator group to 6 members.
We facilitated multiple anti-racism and anti-oppression trainings, including work with Create Access and Impromiscuous.
We launched our unique teacher and coach development program, finalizing our first cohort of Highwire Improv trained improv instructors.
We launched an updated anonymous feedback and reporting system through SuggestionOx.
Looking Ahead to 2023 – Our Inputs
We decided to both look backwards and forwards in forming our 2023 strategy. In 2022, we learned:
Both Marketing and Fundraising Are a Lot of Work
Curriculum Development Needs a Team Too
Balancing In-Person and Online Programming Matters
And in 2024, we'd love to be in a position to be:
Ready to plan and announce a Highwire Improv Festival.
Ready to take on our first dedicated paid positions in operations and HR.
Ready to invest in a semi-permanent space for performance, classes, and community meeting, a true third place for members of the improv community.
With sufficient capital saved to ensure the steady and stable growth of our organization.
Programs and Goals
Program
Goals
Budgeted Revenue
Budgeted Costs
Volunteer Hours
Education
1. Run 2 cohorts of the Teacher Development Program
2. Deliver 12 sections of core curriculum classes, averaging at least 8 students each.
$24,000
$25,020
~200
Jams and Community Space
1. Host weekly open jams.
2. Experiment with other community events, like in-person community meetings or open coffee hours.
$0
$2,280
~150
Anti-Oppression / Anti-Racism Training
1. Conduct quarterly professional development programs in DEI / anti-racism and anti-oppression, offering attendance to the broader global improv community.
$4,800
$12,000
~50
In-Person Shows
1. Host at least 4 out-of-town troupes for shows and workshops, building on our online connections, and learning more about the logistics which will support a future festival.
2. Double the performer pay rate to $60/half-hour set by the end of the year.
$12,900
$10,020
~300
Online Shows
1. Establish a more official coalition/partnership in support of the operations and marketing of online improv shows, jams, and workshops.
$0
$0
~400
Applied Improv
1. Deliver 12 paid applied improv workshops and 3 free workshops to non-profit/community organizations.
$18,000
$10,080
~300
Fundraising Campaigns
1. Run a successful donation campaign raising funds for a semi-permanent space to be booked early 2024.
2. Raise sufficient funds to build out our Last Laugh fund sufficiently to protect the organization in the face of catastrophic events which limit our operations.
3. Earn two grants during 2023.
$19,600
$1,500
~400
Community Input
As always, we'd love to have your input and support. If you have any questions, suggestions, or wish to help with the many volunteer projects we have needs for, please email us at [email protected] – we look forward to a stellar 2023 with you all!